Perfect Fall Recipe
This time of year is perfect for checking out the local farms (which are abundant in here in Wisconsin!) and getting some great straight from the field foods.  According to John Douillard's quintessential writing on diet and Ayurveda, one should eat foods that are native to each season.  We made a trip to the local farm last week to pick up some winter squash, and were reminded of the Gingery Butternut Squash we served last year at Thanksgiving.  It was such a hit, we plan to make it again.  So now, we are sharing it with you... Enjoy!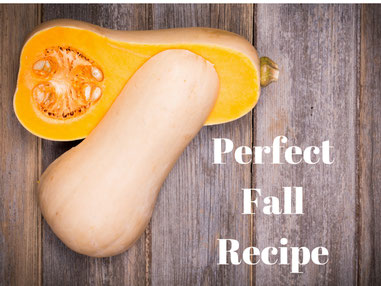 Ingredients
2.5lbs Butternut Squash 
0.5lbs (8oz) Fresh Green Beans
3 Tbsp Ghee or Sunflower Oil 
1 Tbsp Fresh Grated Coconut
Spices
2 inch piece Fresh Ginger 
Pinch Cayenne 
1/4 tsp Yellow Mustard Seed 
1/4 tsp Fenugreek Seed
1/8 tsp Asafetida (hing) 


Prep
Peel and cube the butternut squash into 1" pieces. 

Take the tops off of the green beans and chop into 1" lengths. 

Wash and mince the ginger as finely as possible.
Cook
Have all ingredients prepped and next to stove. 
In a large skillet, heat ghee or sunflower oil to almost smoking. Turn to low; add spices and swirl above heat for 1 minute, then quickly add the butternut squash. Do not let your spices burn. If this happens, toss them out and start again with a fresh batch before adding the squash. 
Cover the skillet for 15 minutes, stirring twice throughout, then add green beans. Cover and cook for another 25 minutes, stirring occasionally. 
Taste for salt and check for doneness. The dish is ready when the squash is easily mashed with a fork. Sprinkle with coconut and serve hot. 
This dish is pacifying for both vata and kapha, and could raise pitta slightly. Vata types can substitute pumpkin instead of the butternut squash for an even more  
balancing dish. Pitta types should omit the Cayenne. Kapha types should omit the Coconut. 
Have a recipe to contribute? We welcome member submissions! If you aren't yet a member, sign up today to receive this benefit!